Purchase Tickets
Don't see your city listed? Host a Screening in your town with Tugg.com! Click here for more details.
Upcoming Screenings and Festivals
February 7, 2018

Mount Allison University , New Brunswick, Canada
March 18, 2018
The Old Butter Factory @ 3:30pm
1 Doepel St, Bellingen NSW 2454, Australia

https://cobargodocos.wordpress.com/
Past Screenings and Film Festivals
December 6th and 11, 2015
UN Climate Meeting: at the Peoples' Climate Summit
March 1, 2017

Women & Environment Symposium Film and Panel- Holland
Park Theater, 248 SOuth River Holland, MI
7:00pm-9:00pm

For tickets and more information go to: wmeac.org/event/women-environment-symposium-film-and-panel/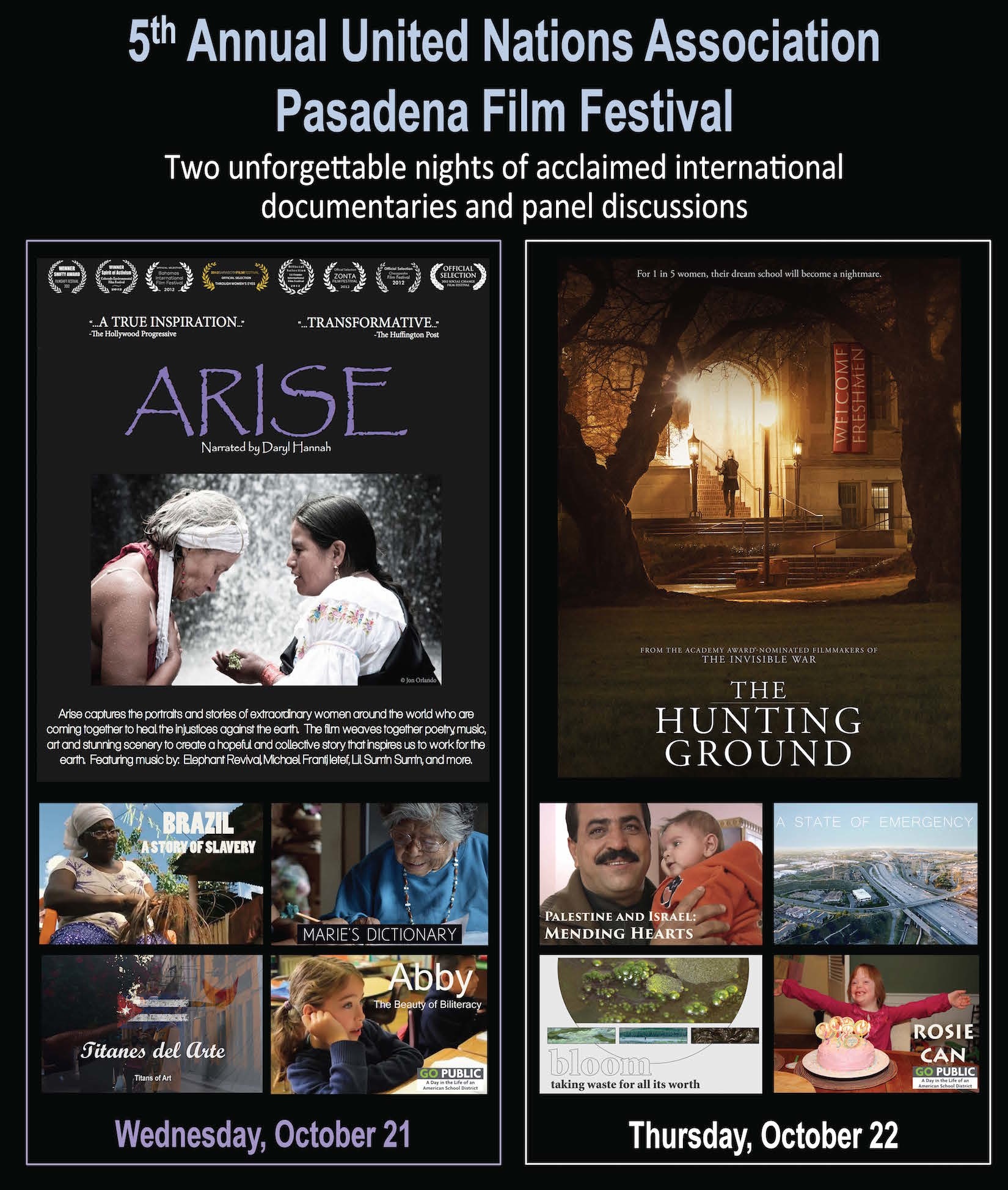 July 18, 2015

Seed Festival 6:30pm
Hawkwood in Stroud UK
Painswick Old Rd, Stroud, Gloucestershire
GL6 7QW
Tickets available at: http://www.seedfestival.co.uk/
March 6, 2015

Boulder International Film Festival
Global Town Hall event called "Lights. Camera. Climate Action" panel discussion

Time and Location TBA
March 7, 2015

One Earth Film Festival
Two Screenings at 11:00am!
St. Martin's Episcopal Church, 5700 Midway Park, Chicago, IL AND
Trinity UCC, 400 W. 95th St., Chicago, IL
Tickets available at: http://www.greencommunityconnections.org/arise/
March 20, 2015

Women Greening the Globe
The College of Staten Island (CUNY)
Performing Arts Center, Recital Hall, Building 1P – 2800 Victory Blvd, SI NY
6:00pm
Free

April 22, 2015

Earth Day Screening at The Denver Botanic Gardens
Mitchell Hall, 909 York Street, Denver, CO
Tickets Available at http://catalog.botanicgardens.org/DateSelection.aspx?item=2401
6:30pm – 8:30pm
Q&A with Filmmakers after the screening and discussion.
$5.00
November 11, 2014

eTown Town Hall
1535 Spruce St. Boulder, CO
Sponsored by Green Grants
Doors open at 6:30pm and show starts at 7:00 PM
Q&A with Filmmakers after the screening and discussion.
$10.00
November 19, 2014

Regis University Presents, "Arise"
Science Amphitheater, Pomponio Science Building, Denver, CO
Doors open at 5:45pm and show starts at 6:00 PM
Roundtable discussion with Beverly Grant, MoBetta Green Market, Dana Miller, Grow Local Colorado,and Candice Orlando and Lori Joyce, Directors.                                                                      Free and open to the public.                                                                                                                           Presented and Sponsored by: Regis Sustainability Committee, The Center for Urban Agriculture, Health, and Nutrition, Regis College Sociology Department
November 14-16th, 2014

Transition Town Totnes Film Festival
Totnes, Devon
http://www.transitiontowntotnes.org/groups/arts/ttt-film-club/
October 24, 2014

UNA Women Presents "Arise" Film Screening
BALLROOM A, TIVOLI STUDENT UNION – UNIVERSITY OF  COLORADO, DENVER
900 AURARIA PARKWAY
7:00pm-10pm  Free
May 21, 2014

Alpine Playhouse
1201 Roosevelt Ave.; McCall, ID 83638
7:30pm
May 25, 2014
Malcolm X Library
5148 Market St.
San Diego, Ca 92114
2:00 PM
A $10 donation is suggested to benefit Project New Village,  whose mission is to collaborate with organizations and individuals to promote personal, community and communal wellness in Southeastern San Diego.
May 31, 2014

Come see Arise! at
Yoga West Collective – 1025 Main Street, Grand Junction Colorado 81501
Saturday May 31, 2014
7:00 to 9:00 PM
yogawestcollective.com/workshopsevents
970 263-4501
Suggested Donation: $5.00
The Quad Cinema, New York City
The Flicks, Boise, ID
Creative Life Center, Sedona, AZ
The Loft, Tuscon, AZ
The Drafthouse, Austin, TX
The Lark, Larkspur, CA
The Mayan Theater, Denver, CO
The Denver Film Center, Denver, CO
The Boedecker, Boulder, CO
The Hollywood Theater, Portland, OR
Arise Music Festival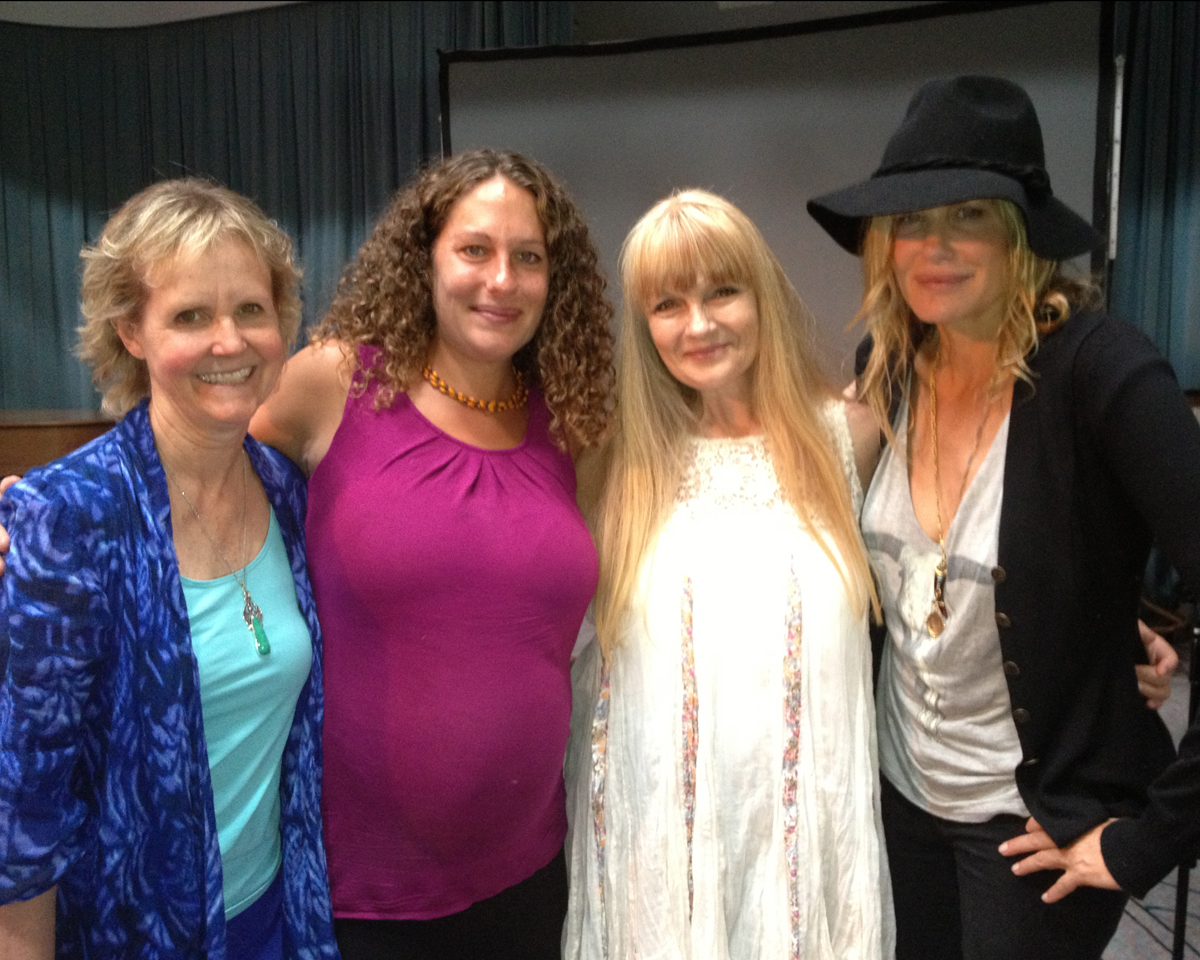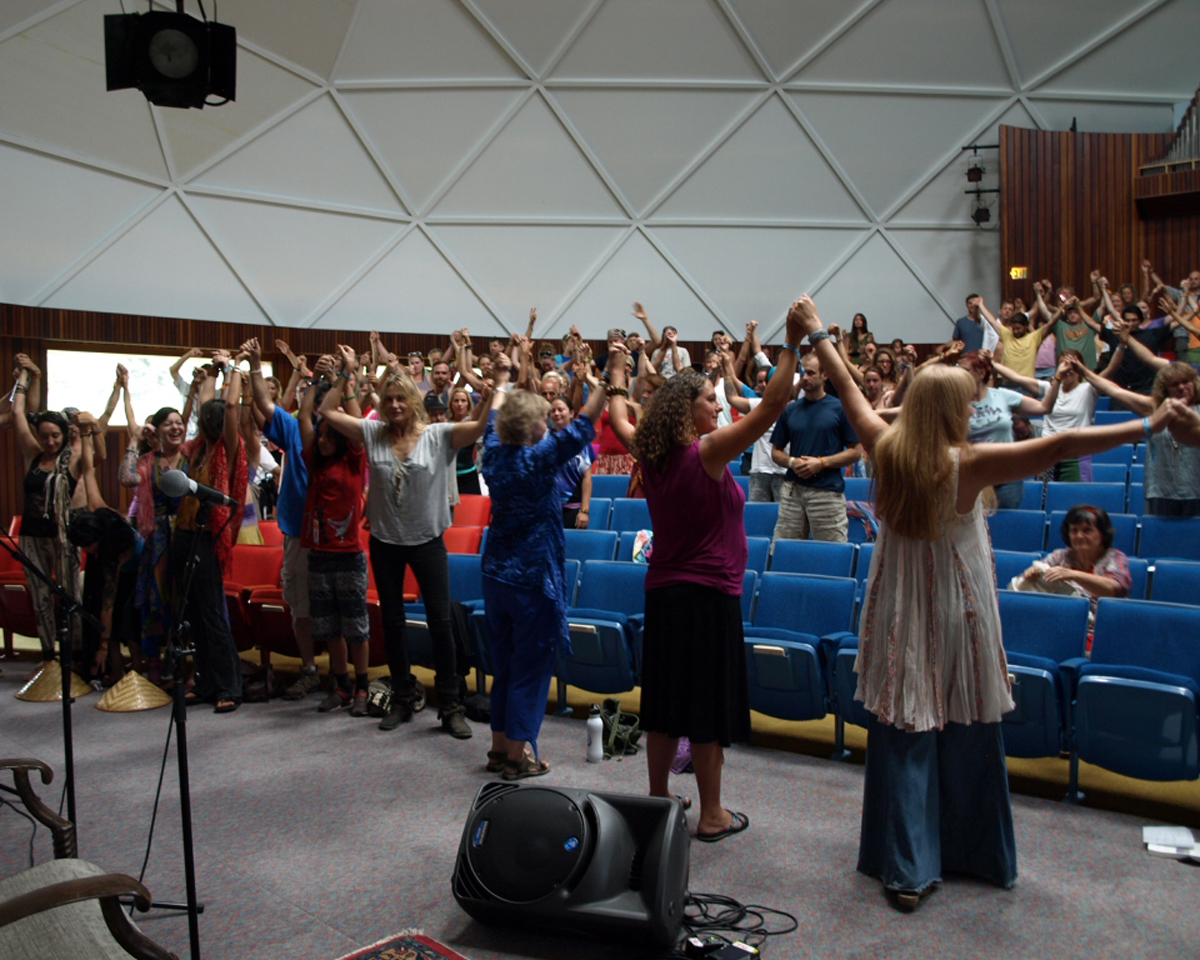 August 17th 11:00am- 12:40pm at Sunrise Ranch, Loveland, CO.
Arise will screen at the festival and will be introduced by Daryl Hannah
For more information: www.arisefestival.com
March 24, 2014
The University of Vermont in  the The Livak Ballroom, Fourth Floor Davis Center
Presented by UPB and The Women's Center as part of The Women's Film
Series in honor of Women's HERStory Month
Burlington, VT  7pm
Questions can be directed to Maria.Teixeira@UVM.edu
March 25, 2014
Sponsored by the Vancouver Watershed Alliance
Fort Vancouver Downtown Library
901 C Street
Vancouver, WA 98660
6PM  Free admission
http://www.vancouverwatersheds.org/index.php/photos
April 3, 2014
Louisiana State University
College of Art + Design
Room 103 Design Building
Baton Rouge, LA 70803
7:30PM  Hosted by ID4772, Department of Interior Design
 April 5, 2014
Finger Lakes Environmental Film Festival
Ithaca College
953 Danby Road
Ithaca, NY 14850-7000
4 pm, http://www.ithaca.edu/fleff/Films2014/?item=6655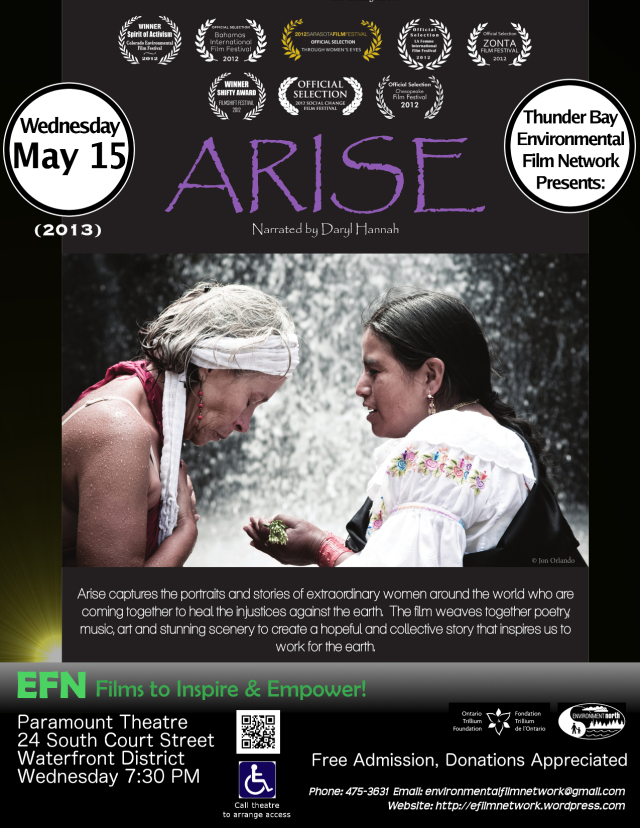 FESTIVAL DU FILM DE BOULOGNE-BILLANCOURT 

In competition for Best Documentary and screening on April 20th, 2013 5pm-7pm
Paris, France
For more information: http://2013.festival-boulognebillancourt2.fr/festival/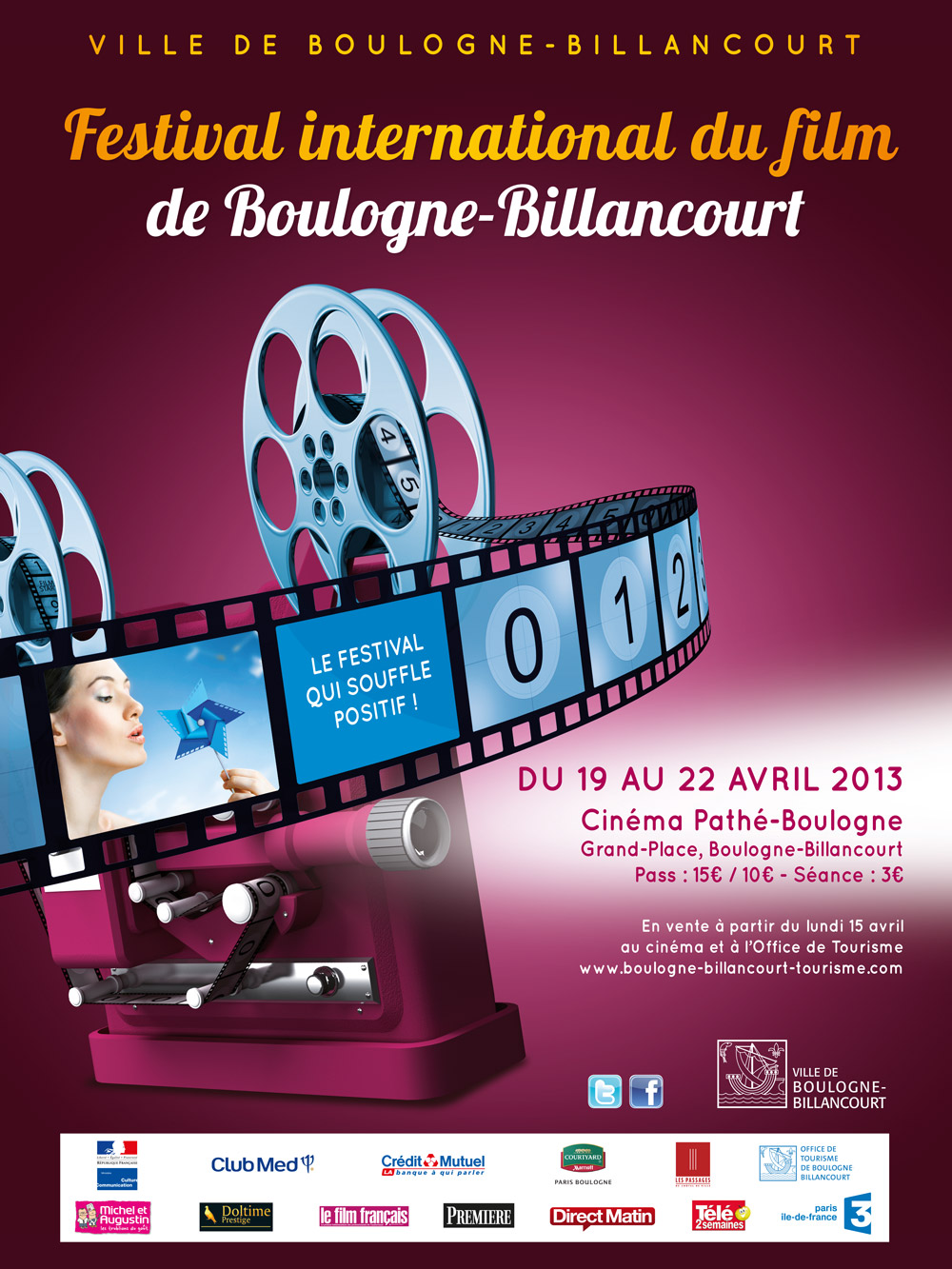 Good Foods Co-op Film Series

April 23rd, 2013 6pm-9pm
Good Foods Market, 455 Southland Drive, Lexington, KY 40503
For more information: www.goodfoods.coop

Boise, Idaho Screening of Arise

May 1st, 2013 – 7pm
The Flicks, 646 Fulton Street, Boise, ID
10% of the proceeds from this screening will go to Amazon Watch. Q&A with filmmakers after the film.
$15 for adults and $13 for seniors and students.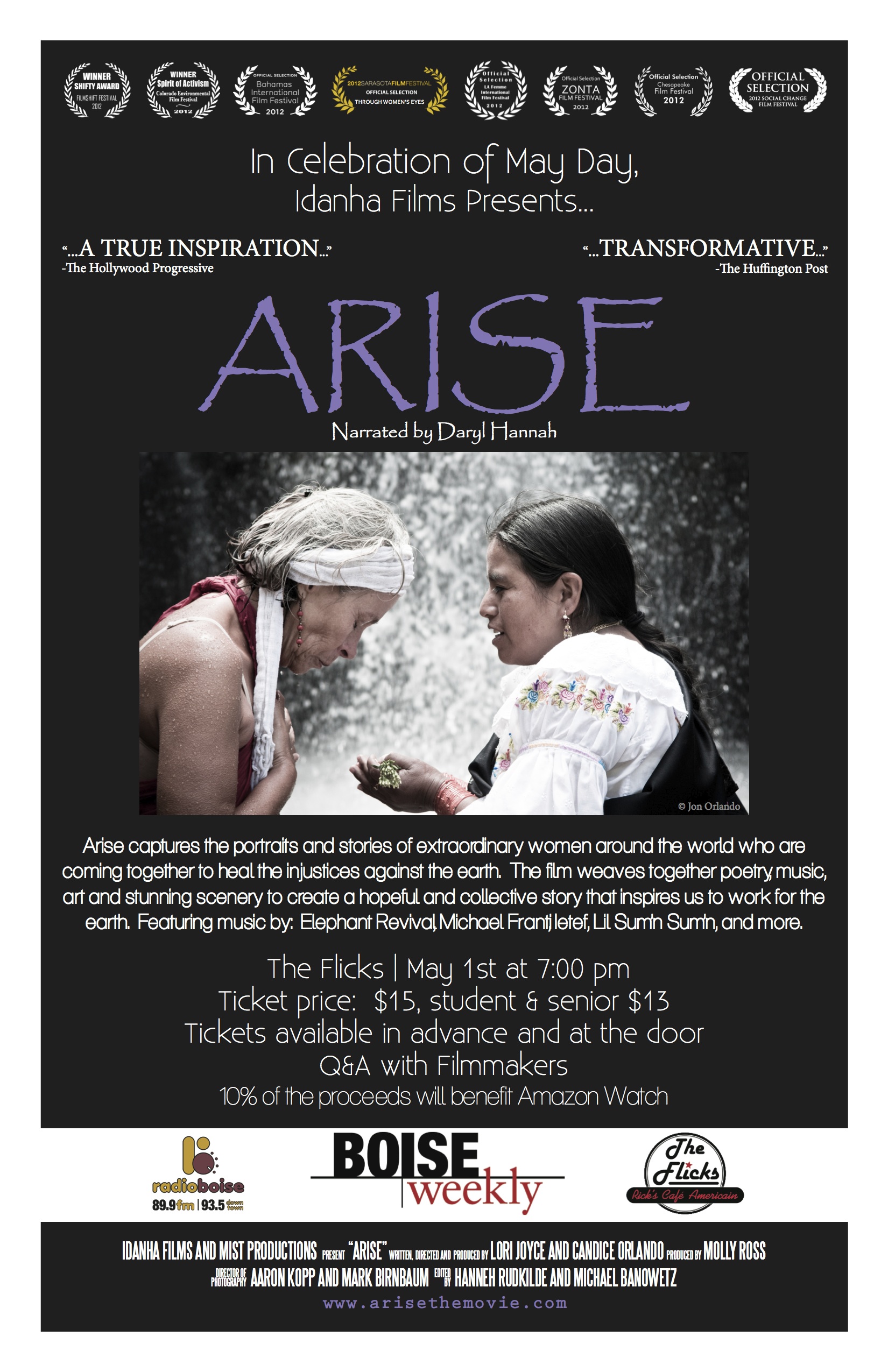 Festival Atmospheres

April 3, 2013 8:45pm
Paris, France http://atmospheresfestival.com/arise/


Boulder Screening for International Women's Day

March 12th, 2013 – 7pm
The Boulder Theater, 2032 14th St Boulder, CO 80302
10% of the proceeds from this screening will go to the Climate Reality Project and TEDX.
Get tickets at: www.bouldertheater.com/event/movie-arise-3
$15 for adults and $13 for seniors and students.


Washington DC
March 17, 2013 7pm
The Dupont Hotel, 500 New Hampshire Ave NW Washington, DC 20036
$15 for adults and $13 for seniors and students
http://www.brownpapertickets.com/event/350742

Portland, Oregon

March 29th, 2013 7PM
Hollywood Theater, 4122 NE Sandy Blvd, Portland, OR
10% of the proceeds will go to The Green Belt Movement
Tickets on sale at agileticketing


2013 Sustainability Film Series

March 20th, 2013 – 7pm
Greer Auditorium, Appalachian State University, Boone, NC
For more information: sustain.appstate.edu/2013filmseries
Denver Screening for Int'l Women's Day – SOLD OUT!

March 7th, 2013 – 7pm
The Mayan Theater, 110 Broadway, Denver, CO 80203
10% of the proceeds from this screening will go to Grow Local Colorado and Mo Betta Farmers Market. Both groups directors are featured in the film. Q&A with filmmakers, Dana Miller and Beverly Grant after the film.

Transitions Film Festival

February 19th, 2013 – 8:30pm
Melbourne, Australia
Q&A with filmmakers after the show
For more information and for tickets : www.transitionsfilmfestival.com

2nd Annual Social Change Film Festival

November 28th through December 2nd 2012.
New Orleans, LA
For more information: www.socialchangefilmfestival.org

9th Annual Bahamas International Film Festival

December 6th-9th, 2012
Nassau, Bahamas
For more information: www.bintlfilmfest.com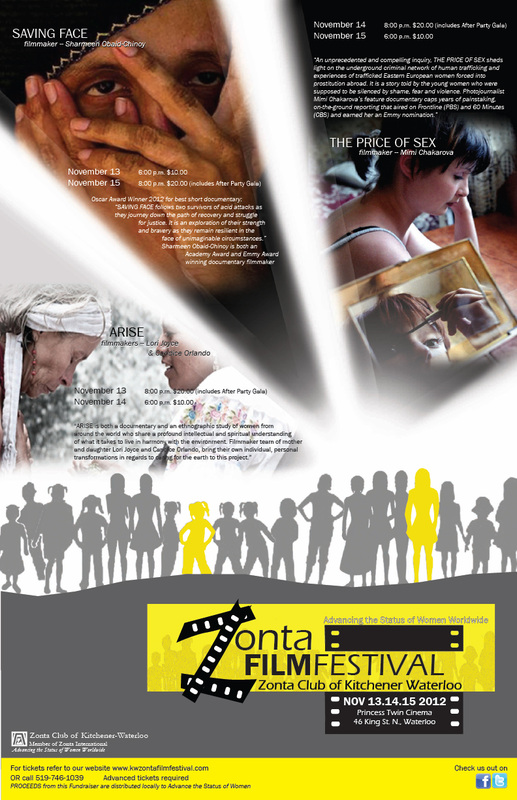 8th Annual LA Femme International Film Festival

October 11th-14th, 2012
Hollywood, California
Arise will screen on October 13th at 3pm
Please go to www.lafemme.org for more information

The 3rd Annual Filmshift Film Festival

October 6th, 7th, 13th 14th, 2012
Somerville, MA
Please go to www.filmshift.org for more information

Women's Congress for Future Generations

September 27th-30th, 2012
Moab, Utah
Please go to www.wcffg.org for more information and tickets

Chesapeake Film Festival

September 21st-23rd. 2012
Arise will screen at 10am on September 22nd and 23rd
Please go to www.chesapeakefilmfestival.com for more information and tickets.
The Boedecker Theater and Idanha Films is pleased to Screen ARISE again in Boulder, CO
Due to the high demand in Boulder, CO to see Arise, The Boedecker Theater has invited the filmmakers to show Arise three nights in a row!
July 26th at 7:00pm
July 27th at 4:30pm
July 28th at 6:30pm
2590 Walnut St.
Boulder, CO

AREDAY Film Festival

Monday, August 20, 2012
Aspen, CO
1:53pm with possible introduction by Daryl Hannah!
Please go to www.areday.net for more information and tickets.



Women Plus Film

Women Plus Film and The Denver Film Society are Pleased to Announce the Denver Premiere Screening of Arise!
June 19, 2011 at 7pm
2510 E. Colfax Avenue
Denver, CO 80206
Tickets available at www.denverfilm.org/filmcenter/detail.aspx?id=24856

Dairy Center for the Arts

The award winning documentary Arise by mother and daughter team Lori Joyce and Candice Orlando will screen at the Dairy Center for the Arts in Boulder, CO.
May 19th, 2012 – 7pm
There will be music, poetry, dance, local organizations tabling and a q&a with the filmmakers after the film.
Tickets on sale now at www.thedairy.org for only $12.